How did the erection of monuments change over time? [back to top]
One of the easiest questions to ask and answer after doing a survey is when does commemoration start and how did it increase in popularity. Using the stones data set, it is possible to see the rise in memorials year by year, but often is better presented in a bar chart by decade.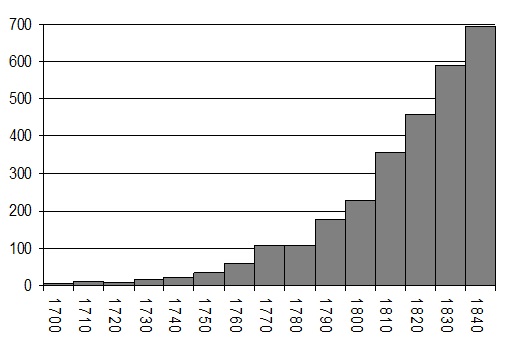 You can look at the charts and consider when memorials start, when they become numerous, and any sharp changes in the pattern. Many burial grounds show a decline in memorials because other alternative locations – such as nonconformist burial grounds or cemeteries – may have opened in the area. There is also the rise of cremation and, although some cremations are marked, many are not or are never deposited in a formal burial ground.
You may have older sets of transcripts of inscriptions, and they may have evidence that is no longer surviving – inscriptions may have eroded and memorials may have been removed. That can provide its own perspective on the memorials that survive.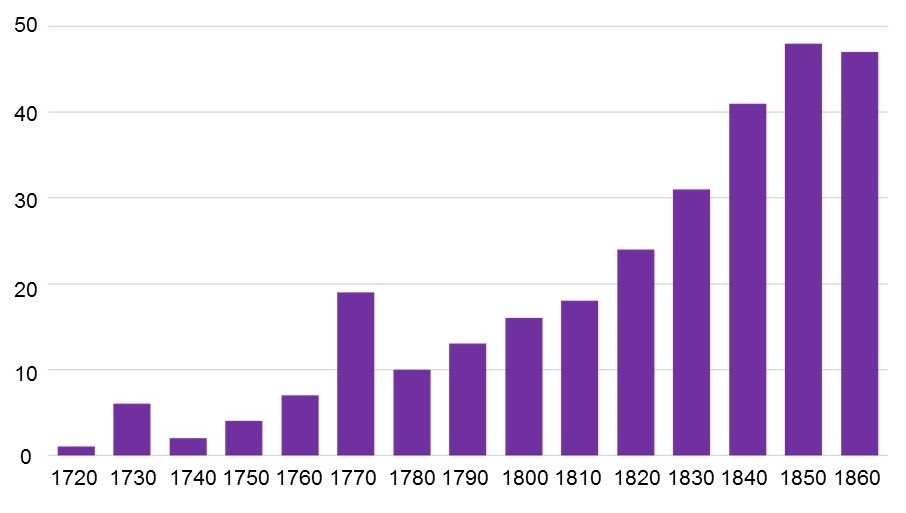 Further reading
The graveyard boom in terms of monument erection has been written about by Sarah Tarlow and Harold Mytum.
Mytum, Harold 2006 'Popular attitudes to memory, the body, and social identity: the rise of external commemoration in Britain, Ireland, and New England'. Post-medieval Archaeology 40.1: 96-110.
Tarlow, Sarah 1998 'Romancing the stones: the graveyard boom of the later 18th century'. In M. Cox (ed.) Grave Concerns: Death and Burial in England 1700-1850: 33-43.
Tarlow, Sarah 1999 Bereavement and commemoration: An archaeology of mortality. Blackwell Publishing, Oxford.
How representative is the population represented on your monuments? [back to top]
One of the questions that you might like to investigate is how many people were commemorated out of those who were buried. This involves collecting data from the burial register as well as from the graveyard. When collecting the register data, you have to decide whether you are just counting by year, say, or whether you wish to count men and women separately, or even explore the ages of the deceased. It depends on whether you wish to explore which sections of the population by age and sex tended to be remembered in the graveyard, or just the overall percentage as shown here.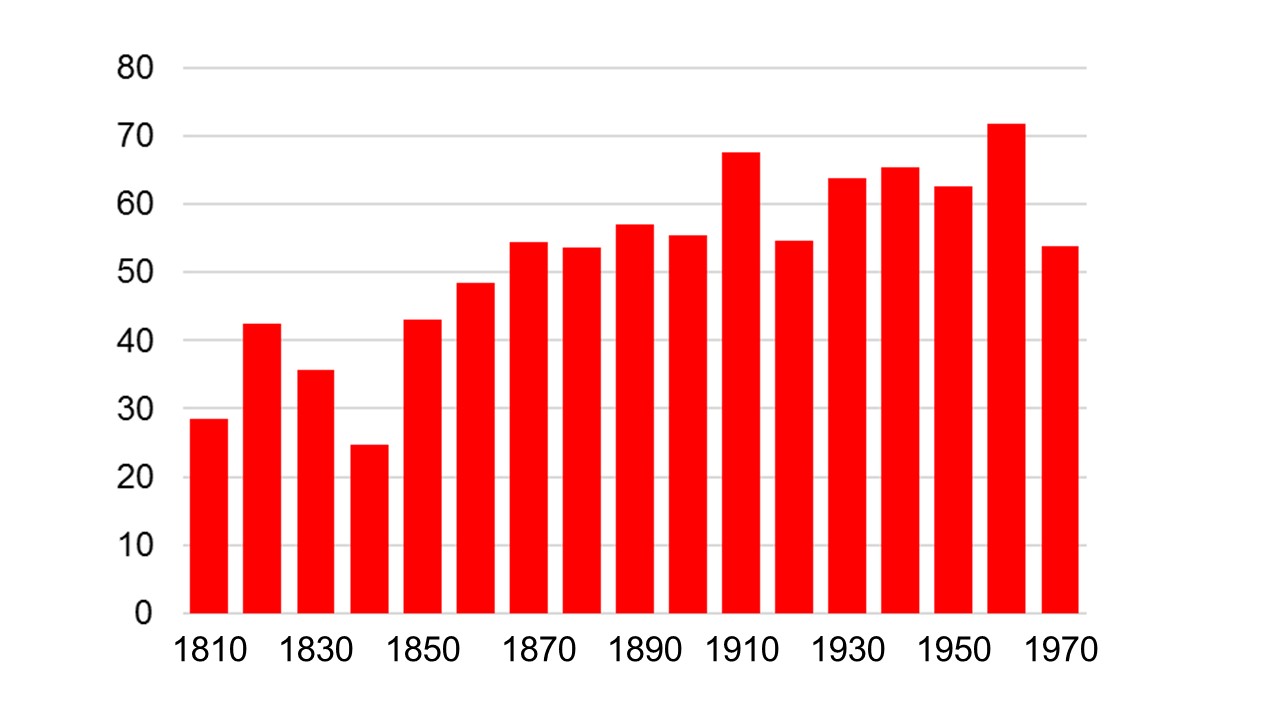 The rate of representation seems to be very carried across the country, though so far very few studies have been completed and disseminated, so we at present have not clear explanation. The Pembrokeshire data suggests a high representation, that from Leicestershire shows a much lower rate. What does your graveyard show, and why might that be?
Further reading
The representation issue has been discussed in these publications:
Mytum, Harold 2006 'Comparison of Nineteenth and Twentieth century Anglican and Nonconformist Memorials in North Pembrokeshire'. The Archaeological Journal 159, 194-241.

University of Leicester Graveyards Group 2012 'Frail memories: is the commemorated population representative of the buried population?'. Post-Medieval Archaeology 46.1: 166-195.
How do symbols on memorials change over time? [back to top]
Memorials have symbols which are often carved in a local distinctive styles but which are in essence similar to those found elsewhere. You can investigate what symbols or motifs were popular – and when – from your data.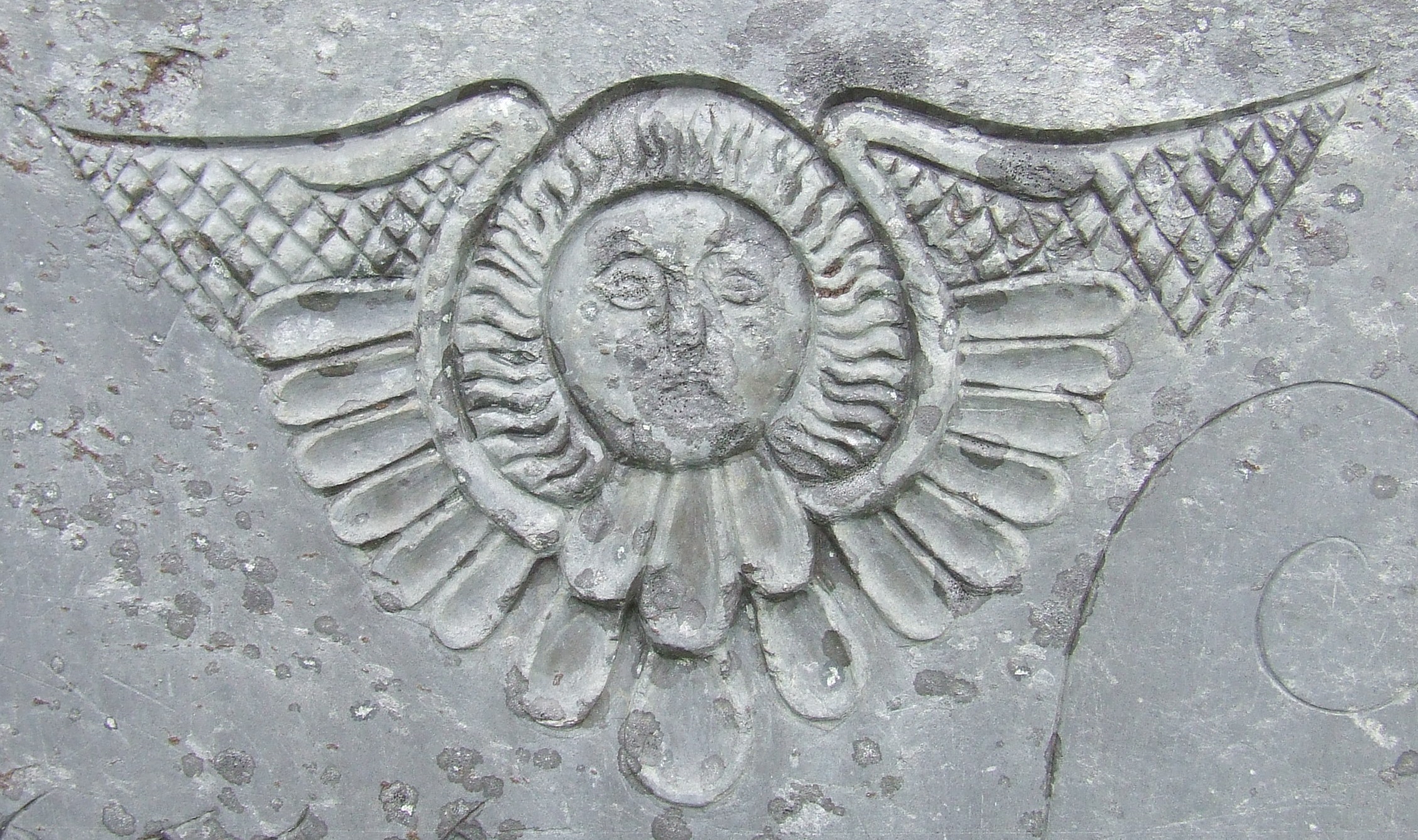 In this sample (derived from surveys in Pembrokeshire and Yorkshire) cherubs are regularly present in small numbers earlier than urns are popular, they overlap and then urns continue to be frequent after cherubs decline in use.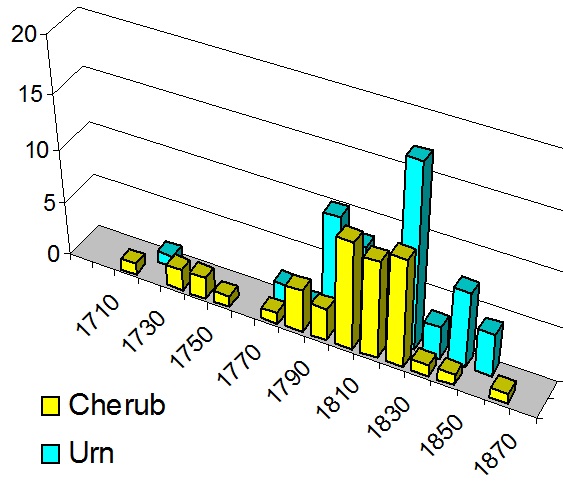 One graveyard may produce enough for such a graph – it depends on how many of your memorials are decorated. In some regions the popularity for cherubs is largely or even completely over before stone memorials start being erected. In other regions there are numerous cherub stones. You may have such memorials present but the date is unknown because of eroded inscriptions, but you may at a later stage of research have some idea of their date from the style of the carving using evidence from those that are dated.
Further reading
There have been surprisingly few substantial studies of symbol popularity through time in Britain and Ireland, but there are classic examples from New England of the changes from death's heads, cherubs and urns and willows. We also have early mortality symbols (but more varied), then cherubs, and the urns only sometimes with willow.
Dethlefsen, Edwin, and James Deetz. 1966 'Death's heads, cherubs, and willow trees: Experimental archaeology in colonial cemeteries.' American Antiquity 31.4: 502-510.

Mytum, Harold 2006 'Comparison of Nineteenth and Twentieth century Anglican and Nonconformist Memorials in North Pembrokeshire'. The Archaeological Journal 159, 194-241.
Continue on to our guidance on archiving.
Go back to the main guidance page.